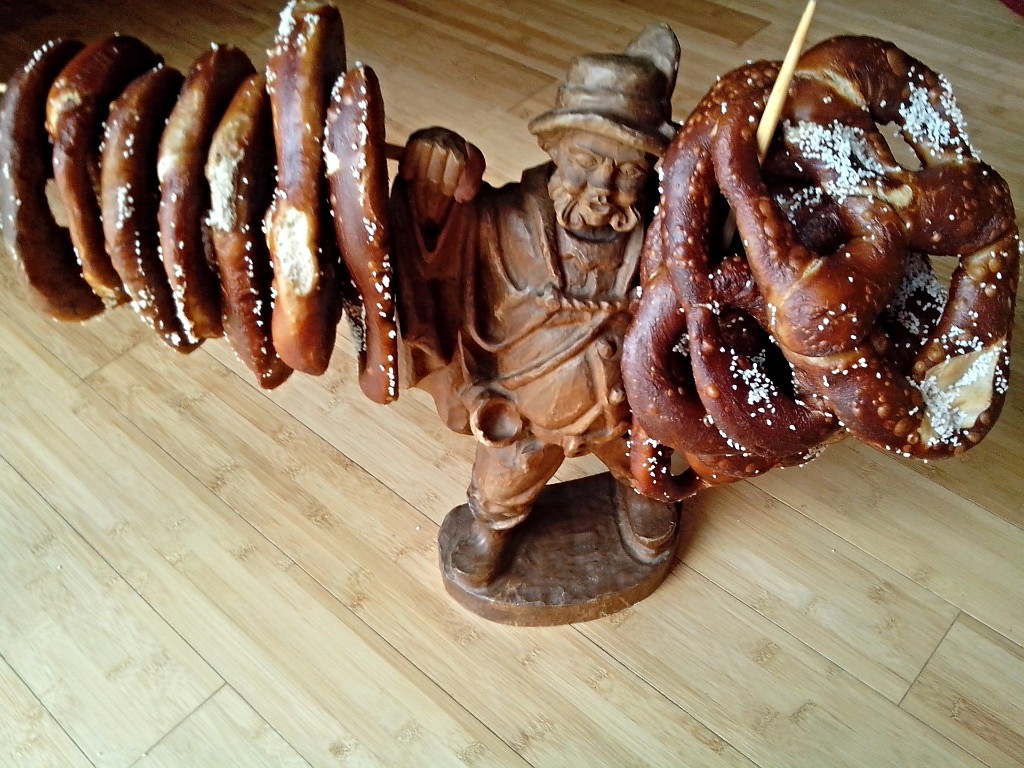 Traditional Munich style soft pretzel with the arms joining around 4 and 8 o'clock. Made with King Arthur Sir Lancelot flour (a higher protein content flour), and King Arthur Special Patent flour, fresh butter, slow acting dry yeast, sea salt, organic barley malt syrup, a small amount of imported lager and a specially sourced medium grained pretzel salt to top, giving it just the right amount of snap and saltiness. -4​​
Scroll down to see our other pretzels!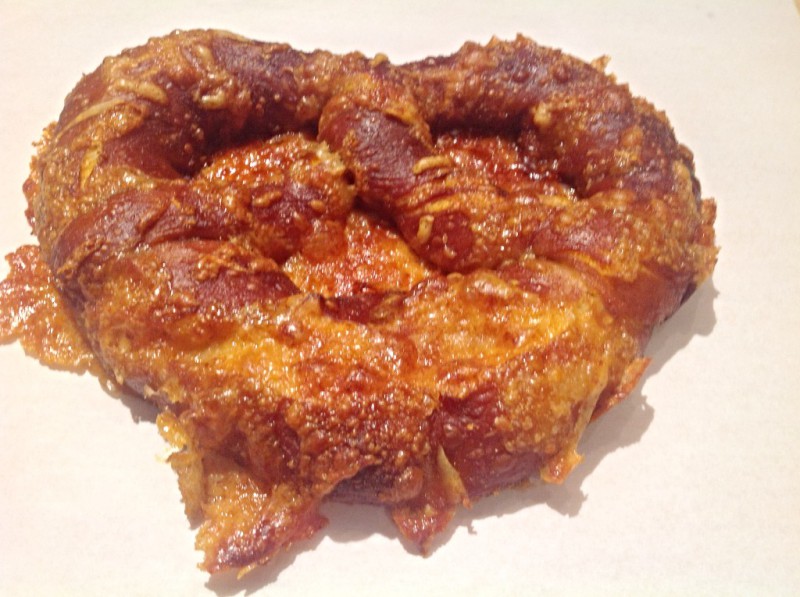 Traditional Munich soft pretzel, a mixture of  New England cheddar cheese and smoked paprika crisply melted over the top. This pretzel is a speciality of Southern Germany and the border regions of Alsace, Switzerland and Austria where gruyere is made in the high mountain overlooks of the local towns. The local cheddar  we use is not to mild nor too sharp and when combined with the smoked paprika, imparts a woodsy, smoky complexity to the pretzel. -5​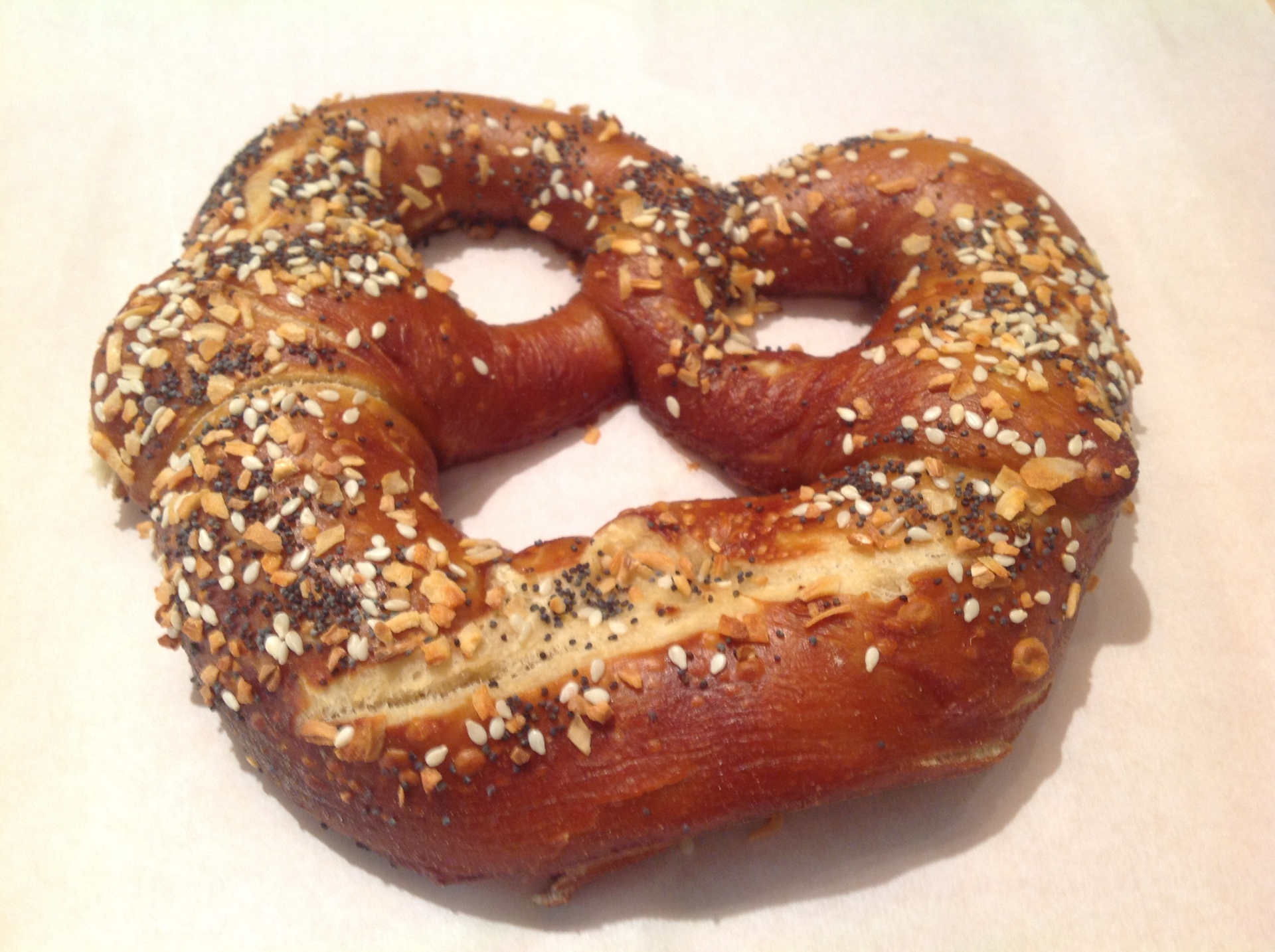 Who doesn't like an everything bagel? So we thought, "everything seasoning on a pretzel!" Minced garlic, savory chopped onion, sesame seeds and poppy seeds.
A taste packed alternative for those who are craving lots of flavor but with less salt, or for those on a lower sodium diet.
-5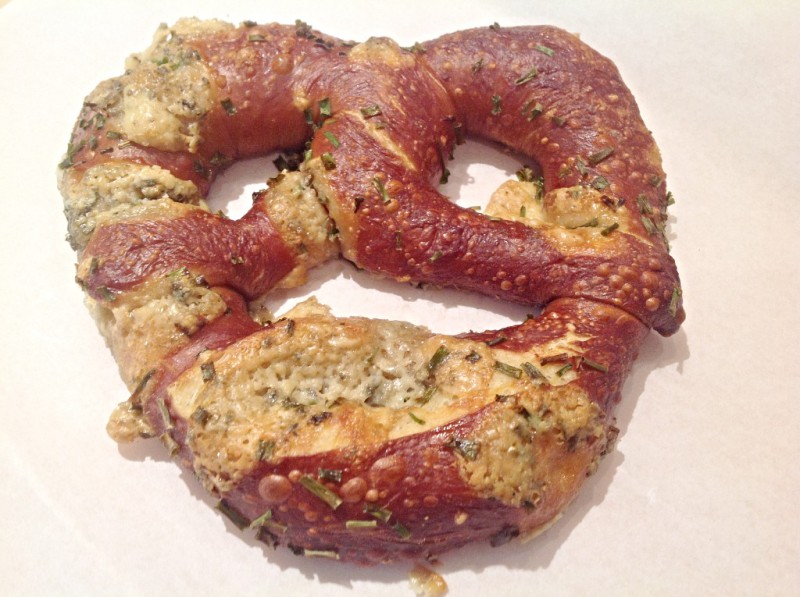 A unique spin on the Kase Bretzel, made with New England blue cheese and, when in season, our own wild chives that grow on a sloping hillside right next to our garden. Just enough blue cheese  to not overpower the familiar flavor of the pretzel. A "wildly" delicious one. -

5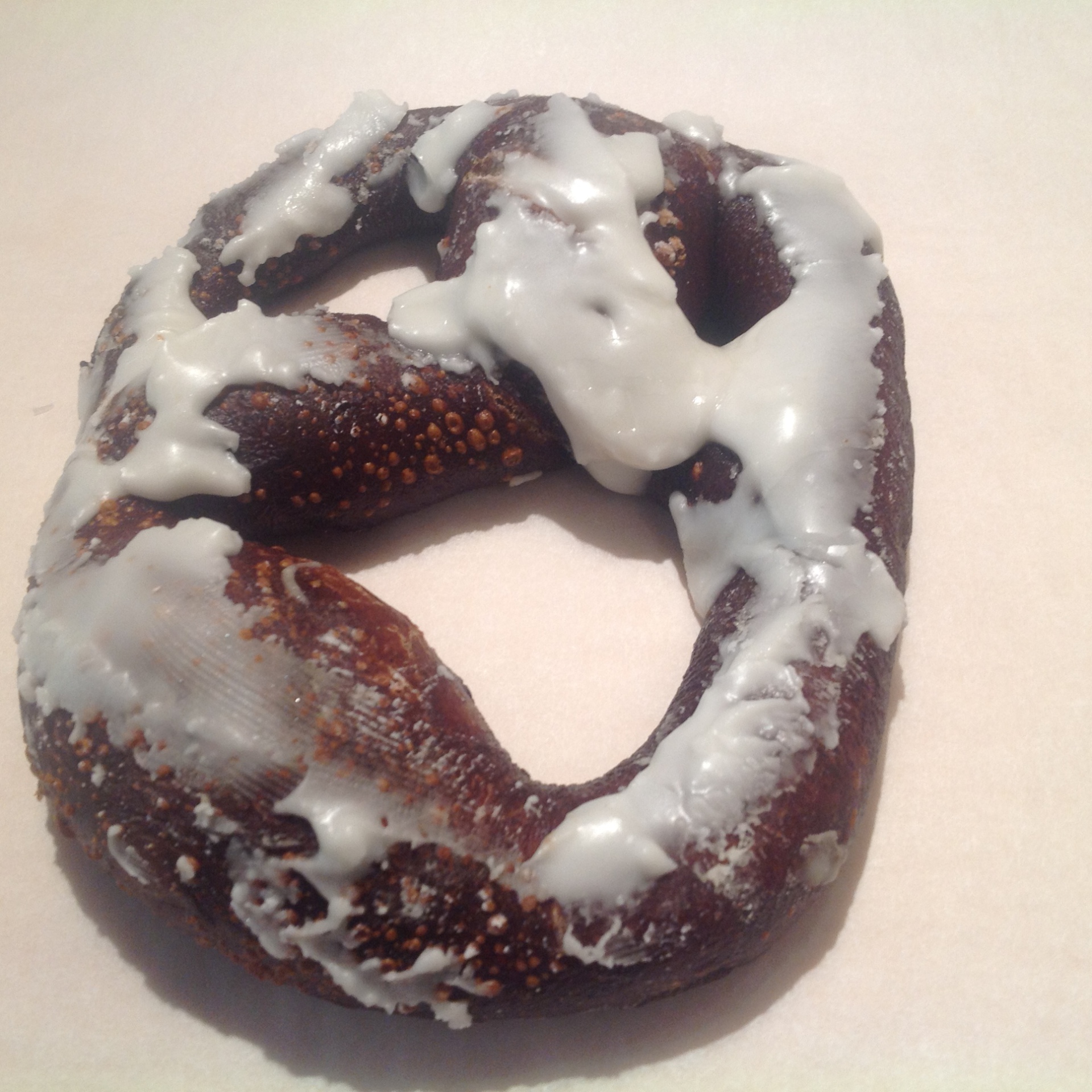 Nurenburg may be famous for its gingerbread, but this might be the first ever actual gingerbread pretzel, atleast that we know of! We use the same master dough recipe but add classic German Christmas Gingerbread spices to the dough; ground clove, ground ginger, cinnamon and dark brown sugar. Glazed with vanilla icing.  (Catering Only)-

5

​​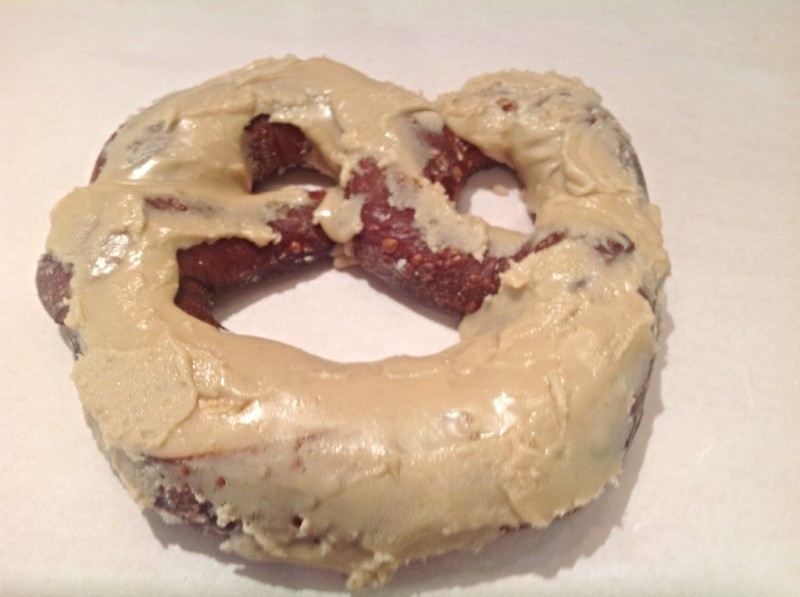 Market Square Maple         Glazed Pretzel 
At first glance, you might think it looks like a donut, and it is certainly donut inspired, but it is a pretzel through and through. This is our Munich salt pretzel treated with a cool, maple flavored glazing on top. The sweet maple glaze pairs pefectly with the malty, beery, mellow flavor of the pretzel. One of our most popular pretzels! 

-5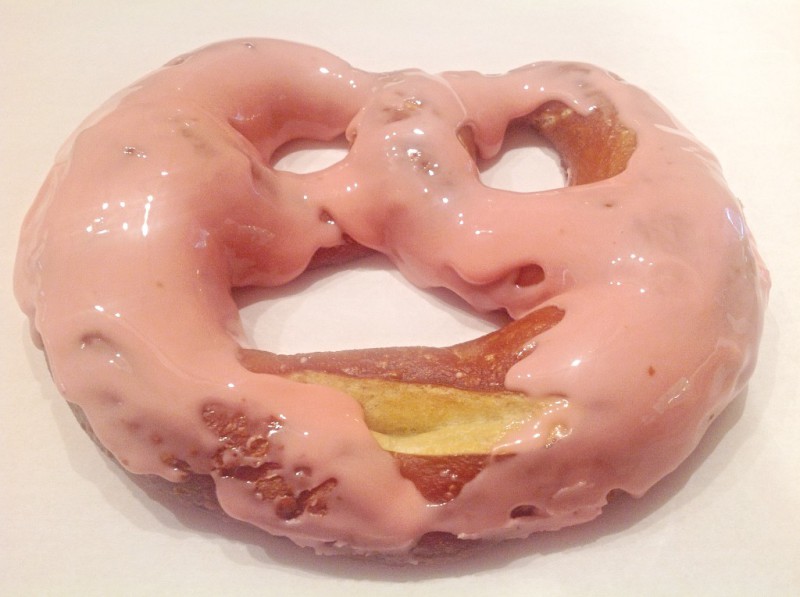 Inspired by what the German Romantics called "traumerai" or day dreaming. This pretzel was created in honor of mid July fairs, carnivals, amusement parks and summertime memories. It is glazed with a luscious, velvety strawberry vanilla icing with rich berry flavor.

-5

​​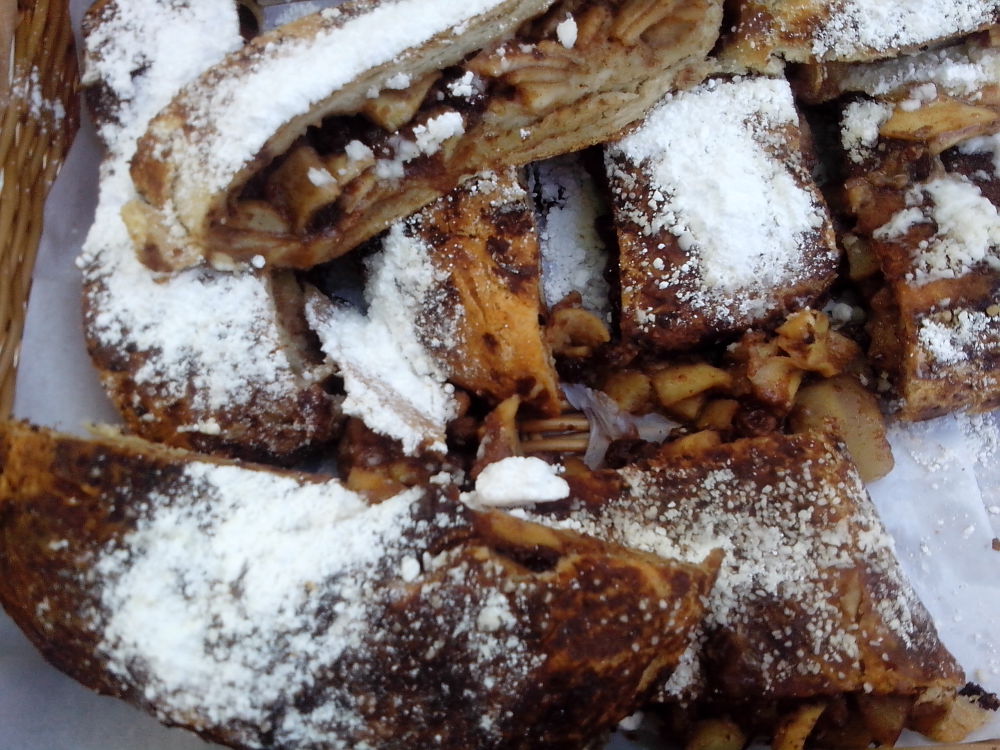 Our very own hand pulled Apple Strudel,

made with pretzel dough! (catering only-ask us for pricing)
​
It's all in the dough from start to  finish
We go a step further by letting our pretzel dough undergo an initial rising stage and then two cold proofing stages; one in bulk form and another after the dough has been rolled and shaped into pretzel form. When the dough is allowed to slow rise in a cold temperature, this is called "retarding" the dough. This process gives it a substantially more complex structure and an artisan texture by letting the yeast work at a slower rate for a longer time, thus creating a more gradual rise and a loftier more tasty pretzel.